This recipe for Rainbow Carrots and Chard is a stunningly colorful side dish perfect for the holidays or your next gathering. Colorful carrots and chard stems are blanched and then tossed in a light lemon vinaigrette for a healthy and simple recipe.
This post is part five of a six part series on Hosting a Vegetarian Thanksgiving. Please visit post one for the full menu and tips a hosting your own meat-free holiday.
WOAH, Thanksgiving is NEXT WEEK! Are you ready? I'm ready! To be completely honest, I've already been rocking my Christmas playlists (eeep – don't tell anyone!). I'm so so so ready to take a little road trip up north to hide out on my childhood couch and catch up on a few novels (in between eating, of course). I do this thing where I get so wrapped up in my head (thank you, election + work + my over growing to-do list) that the only way for me to fully reset is to get out of my environment and travel somewhere. I'm really hoping this trip next week refreshes me in that way (and so does my clenching jaw). Hoping you all have some relaxing plans for next week as well!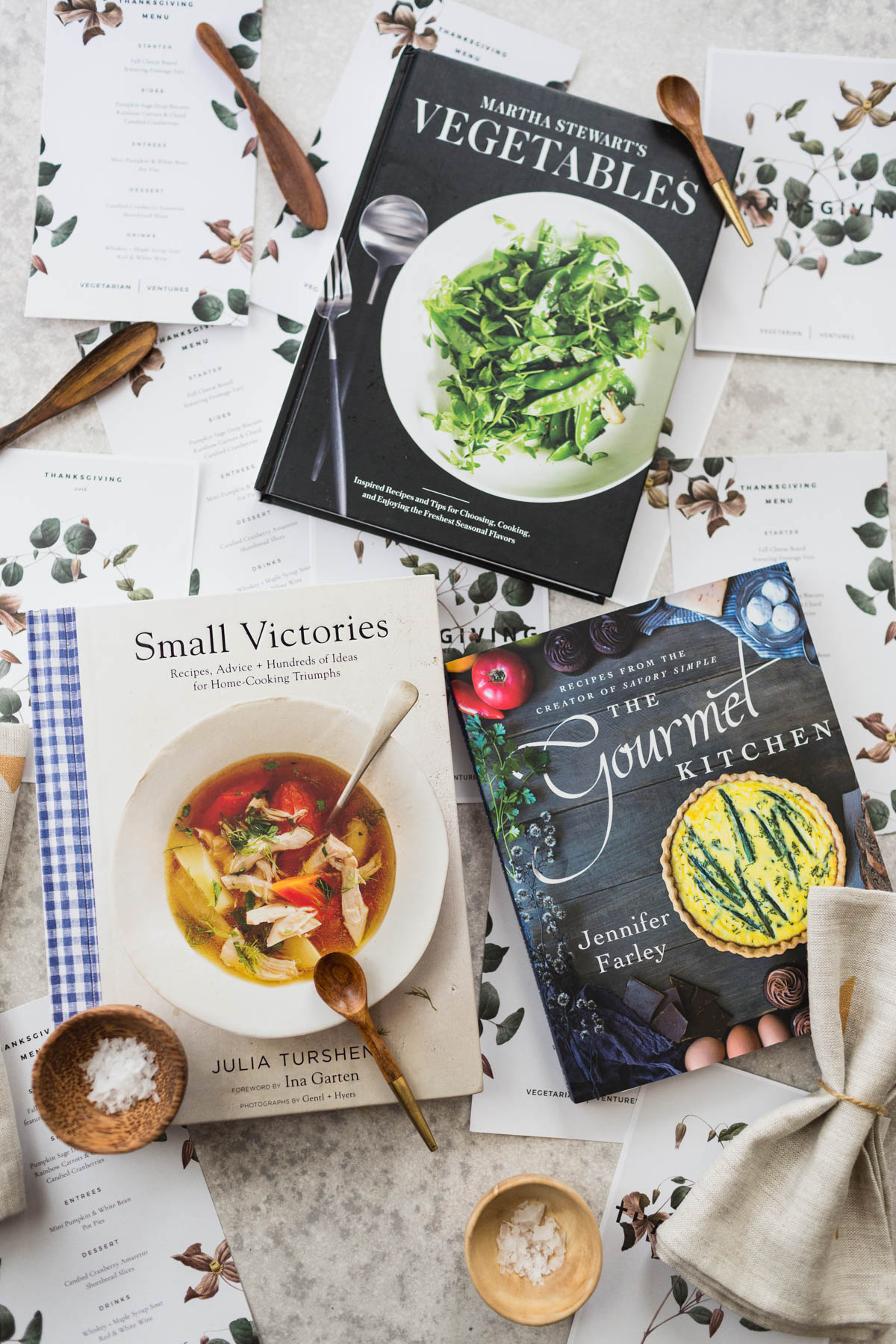 Today's recipe comes from Martha Stewart's Vegetables book. To be completely honest, I found most of the recipes in this book to be pretty uninspiring – lots of side dishes and pasta but not a whole ton of exciting new recipe ideas (except for this side dish – how could anyone resist how stunningly colorful this dish is?). With that being said, I really do love how this book breaks up the sections into different vegetable groups and starts each section with notes on how to prepare, store, and cook each type of vegetable. It also has flavor pairing suggestions for each chapter which I really enjoy since I love making up my own recipes.
The one thing I think I would do differently next time when making this dish is peel the carrots before blanching. The skins do come right off after blanching but it also involves you having to handle the ice cold (literally) carrots with your hands to remove the skins and I think that the salted water's flavor would be absorbed better if it didn't have to penetrate the skin. Please let me know in the comments below if you make this recipe and which method you use for peeling the carrots!
Rainbow Carrots and Chard recipe below:
Vegetarian Thanksgiving Side Dish: Rainbow Carrots and Chard
Recipe type: Side
Cuisine: Vegetarian
1 pound small carrots, trimmed and scrubbed
Coarse sea salt and freshly ground black pepper
1 bunch rainbow Swiss chard, stems trimmed (leaves reserved for another use)
2 Tbsp fresh lemon juice, plus ½ lemon, thinly sliced into rounds
1 tsp sugar
¼ cup extra-virgin olive oil
Fresh mint leaves, for serving
Prepare a large ice-water bath. Cook carrots in a pot of genreously salted boiling water until crisp-tender, about 7 minutes. Transfer carrots to ice bath until cool, then remove with tongs and pat dry.
Cook chard stems in boiling water until crisp-tender, about 4 minutes. Transfer to ice bath, drain, and pat dry.
Whisk together lemon juice and sugar in a small bowl. Season with salt and pepper. Add oil in a slow, steady stream, whisking until combined and emulsified.
Combine carrots, chard, and lemon rounds in a large bowl. Toss with dressing then transfer to a serving platter. Top with mint and serve.
3.5.3217